Reporter's Court Award Struck Down On Appeal
The Associated Press
Feb. 16, 2003
LAKELAND - A state appeals court overturned a $425,000 jury award to a former Tampa television news reporter who claimed she was fired for refusing to include misleading information in a story.

In a unanimous decision Friday, the 2nd District Court of Appeal said Jane Akre failed to show the Tampa station, Fox affiliate WTVT, had violated any state laws.
"It's vindication for WTVT, and we're very pleased," station general manager Bob Linger said. "It's the case we've been making for two years. She never had a legal claim."
Akre still can appeal the decision. She could not be reached for comment because she does not have a listed phone number.
Akre and then-husband Steve Wilson claimed WTVT executives and a Fox network attorney encouraged inclusion of false statements in a story about bovine growth hormone, or BGH, a substance manufactured by the Monsanto Corp.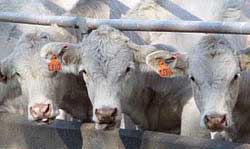 The couple produced a four-part series that said Florida supermarket chains did little to avoid selling milk from cows treated with the hormone, despite assuring customers otherwise.
Akre and Wilson claimed they were wrongfully fired for refusing to use misleading information in the story and because they had threatened to report the station to the Federal Communications Commission.
The station said they were fired because of insubordination.
In August 2000, a jury awarded Akre $425,000, saying the station retaliated against her for threatening to blow the whistle on a false or distorted news report.
The appeals court said Akre's threat to report the station's actions to the FCC didn't deserve protection under the state whistle-blower's statute.