Biotech Trees Get Wooden Response From Sierra Club
Seattle Post-Intelligencer
August 1, 2003
Roll over, John Muir, and tell Johnny Appleseed the news: Biotechnology is coming to the forest and orchard.
Scientists are planting genetically engineered trees in dozens of research projects across the country, ignoring the pleas of environmentalists who fear dangerous, unintended consequences.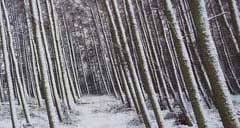 "When we're talking about changing the very makeup of wild forests, we definitely need to apply caution," said Kathleen Casey, with the Northwest office of the Sierra Club.
"Trees send their pollen huge distances, and the idea that this won't contaminate the gene pool is ridiculous," said Phil Bereano, a University of Washington professor of engineering. He serves on the United Nations' "Biosafety Protocol" panel of experts recommending regulation of genetically engineered agricultural products.
"It won't be as widespread as agricultural biotechnology, but it could be much more destructive," said Jim Diamond, chairman of the Sierra Club's genetic engineering committee. "Trees are what's left of our natural environment and home to endangered species."
The Sierra Club wants a moratorium on the planting of genetically engineered trees outdoors until the science is better understood. But like a tree falling deep in the forest, the organization's call for a suspension of genetic tinkering in the woods has gone unheeded.