Austin Earth Day 2000 "You are what you eat day" Proclamation
Bastrop County Commissioners Court Resolution in support of labeling GMOs
Bastrop County Commissioners Court letter to the FDA
Whole Foods Announces They Will Label GMOs
2005 Whole Foods Shareholder Resolution (on labeling)
Austin Parents Call for Removal of GE Foods from School Lunches
Free Bumperstickers - Now you can SAY NO TO GMOS! wherever you go!


Thanksgiving Action - Rally and press conference at HEB Corporate Headquarters, November 25, 2002. Consumers want a choice and we want it NOW!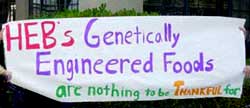 The Organic Trade Association in Austin Again - The second annual Organic Trade Association conference took place in Austin May 8 -11, 2002.