HEB'S Genetically Engineered Foods Are Nothing Te Be Thankful For
For Immediate Release:
Monday, Nov. 25, 2002
Contact: Luke Metzger
(512) 743-8257
HEB continues to ignore consumers' request
for labeling of genetically engineered foods
(San Antonio, TX) This Thanksgiving, HEB customers have little to be thankful for as HEB continues to dismiss consumer request for labeling of genetically engineered ingredients in its 'Hill Country Fare' and 'HEB' brand products. In response, a coalition of consumer, environmental and religious organizations gathered in front of HEB headquarters today to call on the grocery chain to stop using genetically engineered ingredients or to at least label products that contain these ingredients.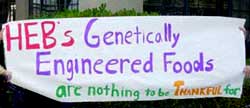 "HEB continues to keep its customers in the dark by refusing to label its products," said Luke Metzger, Consumer Advocate with TexPIRG. "Consumers deserve to know exactly what they're eating."
It is likely that many HEB processed foods like snack items, macaroni and cheese, peanut butter, pot pies, bread etc. contain genetically engineered corn, soybean, canola or cottonseed ingredients. But none of these GE ingredients are currently labeled.