"Farmers are now using from six to 10 times more chemicals because what has happened is that we've developed a new super-weed from genetic engineering. There are about five companies, maybe there are more, but about four or five - that sell GMO canola. So if you had 'farmer A' growing a GMO canola from a company over here and 'farmer B' was growing a canola from another company and 'farmer C' over here was growing Monsanto's, what has happened through cross-pollination is that you now have the three genes in one plant. So it´s now become a super-weed that takes different chemicals to kill. It has moved into grain fields and all other fields besides canola. And you'd be hard-pressed to find a field in western Canada that's not contaminated."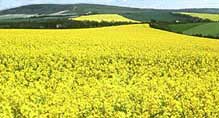 Percy Schmeiser
Canadian canola farmer being sued by Monsanto
from Monsanto Attacks!