Russian Researchers Present New Data on Negative Influence of GMO on Human Health
REGNUM
April 16, 2007
"Results of our research of GMO influence upon living organisms make doubtful their harmlessness for living organisms," President of the National Association for Genetic Safety Alexander Baranov said at a news conference held at the REGNUM press center in Moscow today. "This must become the ground for serious refection at official governmental institutions," Baranov said. Members of the association presented results of research conducted at Vavilov Agriculture University (Saratov). The research registered pathological deviation by guinea-pigs that ate GMO.
As author of the test, Russian biotechnologist Maria Konovalova, who was personally conducting the survey, said the GM-soy used during the tests on rats caused serious mutilations of their internal organs (liver, kidneys, testicles) and in histological and cellular construction. Besides, it influences the number of babies in a litter, differentiated death rate of the descendants, results in increased aggressiveness and loss of maternal instinct.
Maria Konovalova provided photos of the mice under tests: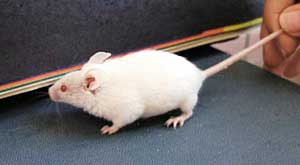 a mouse from the control set bred on a common vivarium ration
a mouse from the sample group that ate isolate of GM soy within five months
President of the association Alexander Baranov also said at the conference that they sent an open letter to Russia's Chief Sanitary Inspector Gennady Onishchenko stressing necessity of a temporary ban on using GMO that have been already given permission for use in the Russian territory and announcing a temporary moratorium on registration of new GMO until their influence upon human organism is fully examined.
"By present moment an awful situation has established: we feed our children with food, safety of which nobody can guarantee," Baranov believes. "We are not searching for whom is to blame for it. In our letter to Gennady Onishchenko we propose certain measures for soonest settlement of the problem."
As REGNUM reported earlier, in October 2005, Russian reseracher Dr. Irina Ermakova made public results of her experiment that showed that genetically modified soy affects posterity.