GMO Contaminated Papaya Seed Sold
News release
Hawaii SEED
May 22, 2006
University of Hawaii Sells GMO Contaminated Papaya Seed to the Public Locally and Internationally
Hilo, Hawaii – Independent laboratory testing results released today reveal that the University of Hawaii's non-GMO papaya seeds are GMO contaminated. Hawaii SEED purchased seed packets of Waimanalo Solo, Sunset Solo, and Sunrise solo directly from the University. These 10,000 seed samples were sent to Genetic ID for PCR testing. The Waimanalo Solo variety tested positive for the GMO contamination. Two years ago Hawaii SEED (then GMO Free Hawaii) informed the University of Hawaii that its seed supply was GMO contaminated. The University denied contamination. These recent test results confirm that the University continues to sell GMO contaminated seeds.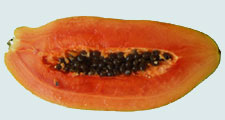 A new report titled, "Hawaiian Papaya: GMO Contaminated", is available for the first time today on Hawaii SEED's website http://www.gmofreemaui.com/content.php?article.24 .The report describes breaking news on current test results of UH's non-GMO seed supply plus the GMO Papaya Contamination Study that the group released data from in 2004. Shocking results included Hawaii Island had 50% GMO Contaminated, Oahu had >5% GMO Contamination, and Kauai had 0% GMO Contamination. The two organic farms tested had non-GMO trees, but GMO air contamination of the seeds in the fruit. The University of Hawaii's non-GMO papaya seed stock showed contamination greater than 0.01% but less than 0.1% in the Waimanalo Solo variety.
"The University of Hawaii even sells non-GMO papaya seeds with a claim that they are is not grown near GMO fields, but now we find that it is still GMO contaminated. The contamination levels we found mean one to ten GMO seeds per packet. This means one to ten GMO trees on an organic farm or on a farm in a country where it is illegal to grow GMO Papaya. UH sells some of this seed to growers around the world." -Melanie Bondera, Hawaii SEED Spokesperson
"I am concerned that the traditional non-GMO papaya varieties continue to show GMO contamination. This proves how difficult is to contain GMO plants from polluting non-GMO plants. It's amazing how long ago we brought this up, and the University of Hawaii still hasn't responded." –Dr. Hector Valenzuela, Vegetable Crops Extension Specialist, University of Hawaii, Manoa.
"I was outraged to find that despite their assurances, the University of Hawaii's non-GMO papaya seed supply is GMO contaminated two years later. How can we trust them now." -Mark Query, Co-author of Hawaii SEED Report, "Hawaiian Papaya: GMO Contaminated"