Pasumai Thaayagam Confronts GMOs' Supporters:
"Rice is life – Not corporate business"
March 12, 2004
CHENNAI – India: Activists from Pasumai Thaayagam (Green Motherland, a environmental action group in South India) surprised GMOs supporters – Gerard Barry, Golden Rise Network Coordinator, IRRI and former Monsanto employee; William James Peacock, Chief, CSIRO Canberra, Australia; M.K. Bhan, Secretary, Department of Biotechnology, Govt. of India, with a banner stating. "International Year of Rice 2004, Rice is life - Not Corporate business, Say No to GMOs - Genetically Modified Organisms, Don't let big business rule the world" in events that were organized by the M S Swaminathan Research Foundation at Chennai, India. The activists distributed a pamphlet on 'corporate control over rice'.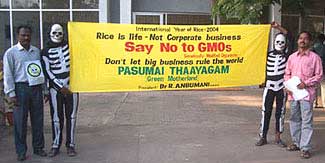 The MSSRF had organized two events on March 12 and 13, 2004 in Chennai to commemorate the occasion of the 'International Year of Rice 2004' – 1. National Colloquium on Molecular Breeding and Shaping the Future of Rice, 2. Forum on Biotechnology and the future of rice. Both events were largely represented and dominated by panelists who favored the introduction of the GM seeds for increasing food production.
Voicing his concern, Dr. R. Anbumani, President, Pasumai Thaayagam, released a press release which states "Today's industrial agriculture system compromises the very earth on which all our future food needs depend. The failures of the current approach to farming threaten the rich and poor. Rather then growing food to meet the needs of local communities for healthy, diverse diet, industrial agriculture produces crops to sell on world markets.
Rice is the main staple of South Indians and therefore our agricultural systems have historically been rice growing. The growth rate of rice production in India had comedown drastically from 3.0 percent per annum during the period 1985-89 to 1.5 percent currently. In certain pockets, the growth rates have remained stagnant. This is the direct outcome of the Green Revolution, which blindly copied western methods of farming that used heavy doses of chemical fertilizers, pesticides and insecticides, resulting in incalculable damage to the soil. The impact of Green Revolution on our lands and water as also the future and the divide it created amongst the rich and poor is well known. Let us remind those who tell us that the Green Revolution brought in food surplus that a) it fed only those who were already quite well fed and b) 1/3 of Indian population is still malnourished.
Hunger and poverty go hand in hand. Technological 'solutions' like genetic engineering (GE) overshadow the real social and environmental problems that cause hunger. The argument that GE is vital to feed the world and has a central role to play in enhancing agriculture productivity is based on the assumption that hunger is the result of too little food. GE proponents ignore the fact that most hungry people live in countries that have a surplus of food rather then deficit.
Pasumai Thaayagam demands real solutions. The future for farming lies in recognizing its role not only in the production of food, but also in providing clean water, diverse wildlife and plants, and the fertile soil on which the future depends.
Pasumai Thaayagam will strongly oppose the development, cultivation, and import/export of genetically modified rice because it ignores food safety, weakens both domestic and global agriculture, and negatively impacts the environment. And also because the future of our children and the country is at stake."
Pasumai Thaayagam (Green Motherland)
No. 9, Lyn Wood Lane, Mahalingapuram, CHENNAI – 600 034
Tamil Nadu, India
Email: pasumaimail@yahoo.co.in