Wisdom of the Geese
There's a farmer in Illinois who's been planting soybeans on his 50-acre field for years. Unfortunately, he also had a flock of soybean-eating geese that took up residence in a pond nearby.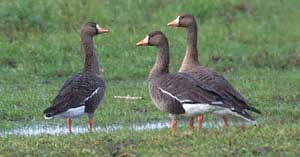 Geese, being creatures of habit, returned to the same spot the next year to again feast on his soybeans. But this time, the geese ate only from a specific part of this field. There, as a result of their feasting, the beans grew only ankle high. The geese, it seemed, were boycotting the other part of the same field where the beans were able to grow waist-high. The reason: this year, the farmer had tried the new, genetically engineered soybeans. And you can see exactly where they were planted, for there is a line right down the middle of his field with the natural beans on one side, and the genetically engineered soybeans, untouched by the geese, on the other.
Visiting that Illinois farm, veteran agricultural writer C.F. Marley said, "I've never seen anything like it. What's amazing is that the field with Roundup Ready [genetically engineered] beans had been planted to conventional beans the previous year, and the geese ate them. This year, they won't go near that field."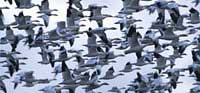 from Seeds of Deception:
Exposing Industry and Government Lies About the Safety
of the Genetically Engineered Foods You're Eating
by Jeffrey M. Smith